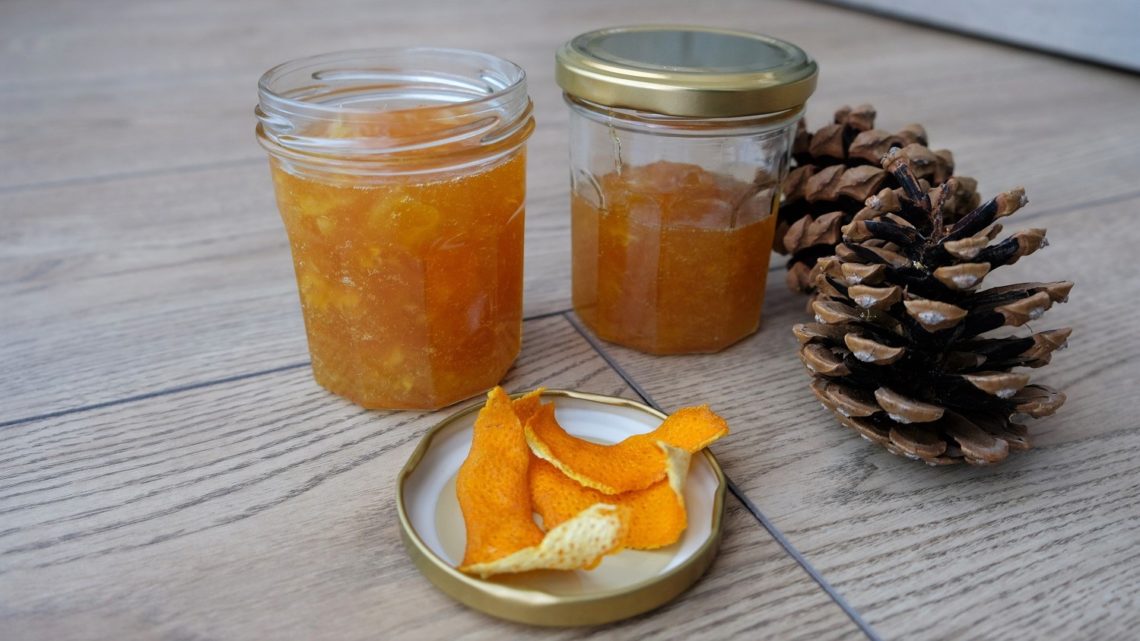 During winter, I really appreciate the orange jam taste. Moreover, it smell so good in my kitchen when I prepare some… You really should try my recipe which is not so easy and take a lot of time so be patient. For orange jam, the amount of granulated sugar must be half the oranges weight (Example: if you have 500 g of oranges like the 2 oranges I have here, you have to use 250 g granulated sugar). Something very important: use organic oranges because you will need to use the skin.
Ingredients:
2 oranges (500 g)
250 g granulated sugar
1 teaspoon vanilla extract
water
Recipe:
Wash your oranges and peel them. Cut them in big parts and place them in your sauce pan with the sugar and vanilla. Mix with a spatula, cover with a cellophane and let rest for 2 hours. During this time, remove the white part of the oranges skin and separate them in two equals piles. For the first pile, place them on a shelf covered by a baking paper and put them in the oven at 70°C during 1h30 to dry them. Then, remove from the oven and let cool down. You can use them for decoration (it smells good) or even for tea (it tastes good).
For the second pile, cut them in very thin slivers and place them in a sauce pan with water. Make it boil on the burner and reduce the heat at medium-high temperature. Let it cook for 15 minutes. Then, remove the water, add some new one and do it again. After this second time cooking, remove the water and let rest.
When the 2 hours are over, place the sauce pan with the oranges on the burner at medium-high temperature and cook for 15-20 minutes. Remove from the burner, wait 5-10 minutes and mix with a hand blender. Add the oranges slivers and place it back on the burner at medium temperature. Let cook 15 to 30 minutes (depending on the quantity of oranges you are cooking). Pour the jam in glass pots and let cool down before closing them.
---