I am lucky to live at only 4 hours of driving from Spain border. And luckily, from the East Spain border so San Sebastian, the city known for its delicious tapas!!! A few years ago we had a fantastic road trip in North Spain where we discovered those incredible tapas in Pamplona: Foie Gras tapas… We enjoyed them so much that we decided to cook them at home and it was a success. Finally, I am now sharing this incredible recipe with you, perfect for a starter!
Ingredients for 4 tapas:
4 frozen Foie Gras escalopes
1 Green Apple (Granny Smith)
1 brown onion
4 slices of bread French Baguette
1 teaspoon Maggi liquid seasoning
1/2 teaspoon black pepper
2 teaspoons butter
Salt

Recipe:
Peel the onion and brown in a sauce pan at medium temperature with 1 teaspoon butter. Add the black pepper and Maggi liquid seasoning and mix. Cook for 5-10 minutes until it become a confit. Remove from the burner and keep aside. Peel and cut the apple in slices (2-3 mm). Put the second teaspoon butter in a frying pan at medium-low temperature and add the apple slices. Just put a pinch of salt and cook for 5-10 minutes, turning them frequently. Also remove from the burner and keep aside. In another frying pan, sear your Foie Gras escalopes at medium-high temperature for 30 seconds on each side, then, reduce the burner's heat at low temperature and cook again 2 minutes on each side. During this time, cut 4 slices of the bread (bevel shape to get bigger slices) and place them in your plates. Put on top the onion, then, apple slices and finally, the cooked Foie Gras. Add just a pinch of salt on top of each and enjoy your meal!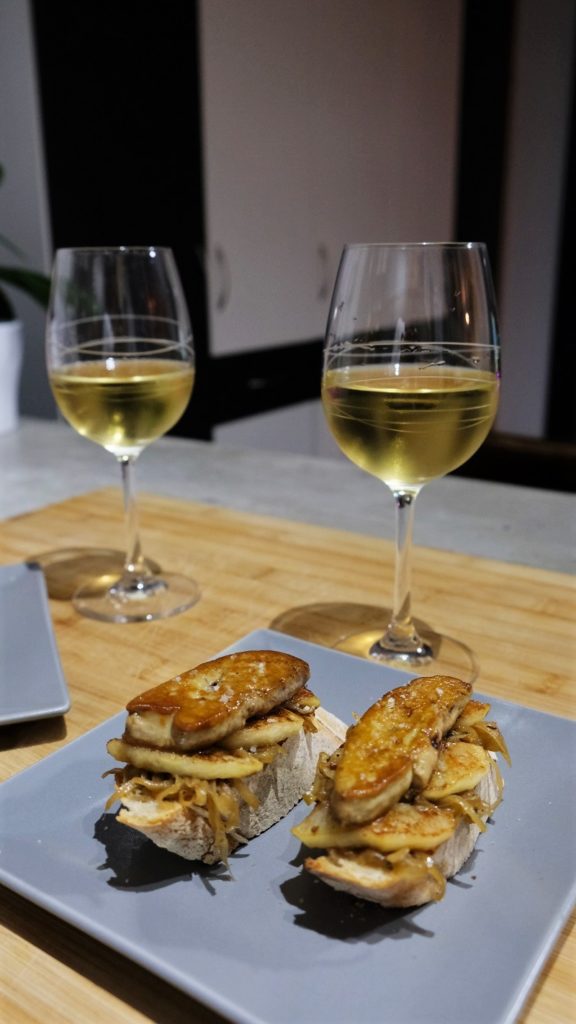 ---