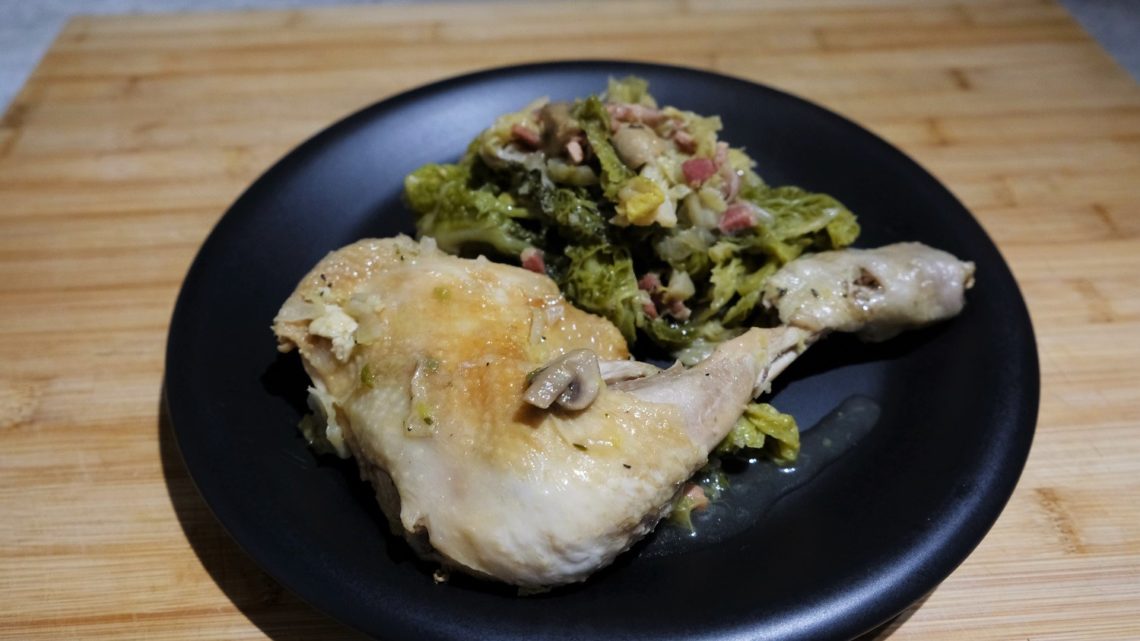 What a better season than winter to cook stews? I enjoy to cook them during cold days, even more when it is rainning outside. This is the top comfort food: it heat the kitchen, smells good and taste good! Here is my recipe for a delicious Chicken Stew with Cabbage… For the white wine that you will need for the recipe, I suggest you to use one that you also enjoy to drink with your meal. If you don't want to use wine, you can also use 1 tablespoon cider vinegar mixed with water (this is what I did the last time I cooked it). Note: This recipe is for 4 people. You can see on the pictures that there is only 2 chicken legs instead of the 4 indicated in the recipe, this is because we were 2 that day but all the ingredients were for 4 people (we had plenty more for a second day after our diner).
Ingredients for 4 people:
4 chicken legs & thighs
1 Milan Cabbage
200 g mushrooms
200g lardons
2 onions
2 garlic cloves
1/2 glass of white wine
1 chicken stock cube
2 tablespoons olive oil
1 tablespoon fresh parsley
1 teaspoon thyme
1/2 teaspoon black pepper
1/2 teaspoon salt

Recipe:
Wash the cabbage and cut in 4 parts. Place it in a big sauce pan with a large amount of water. Make it boil, then reduce the heat at medium temperature and let cook for 10 minutes. When it is cooked, remove from the water and place in a skimmer. Wash and dry the chicken, then, place a big casserole dish on the burner at medium-high temperature. Add the olive oil and the chicken, the salt and black pepper, and let cook 5 minutes on each side until crusty. During this time, wash and cut the mushrooms, peel and press the garlic, peel and chop the onion and then, the parsley. When the chicken is cooked, remove from the casserole dish and put it to one side. Put the lardons, onions, garlic and parsley in the casserole dish with the thyme. Mix with a spatula and add the cabbage. Crumble the chicken stock cube on top and mix again with the spatula. Let cook, mixing every 10-20 seconds (so it won't stick) until the water inside the mushrooms and cabbage has been boiled off. Then, place the ingredients on the side of the casserole dish and deglaze with the white wine pouring it in the middle. Mix everything with the spatula until it is almost totally evaporate and reduce the heat at low temperature. Add the chicken and place it under the ingredients. Cover and let cook 1h. When the cooking time is over, you can use a knife to cut the chicken and be sure it is cooked before serving.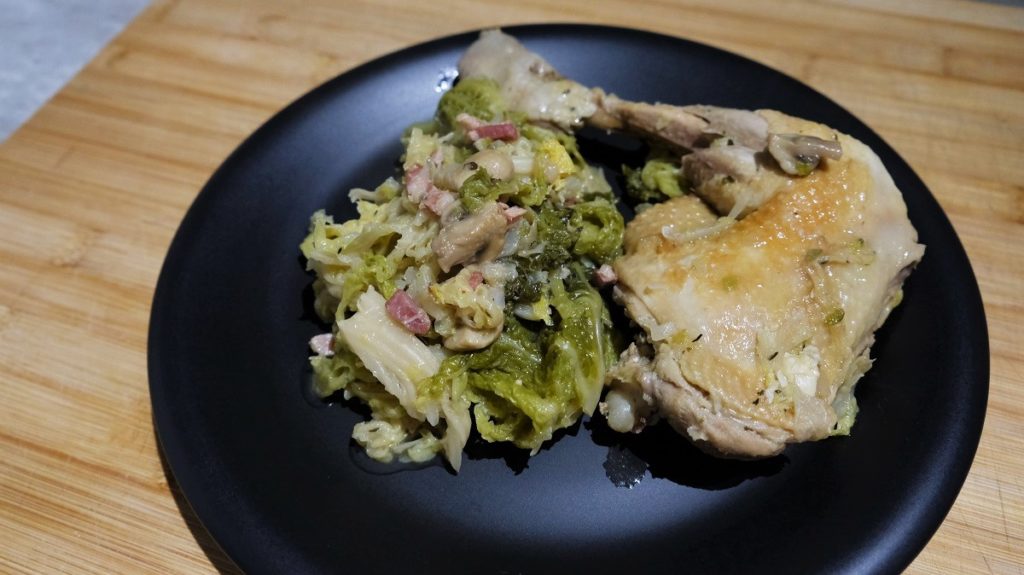 ---