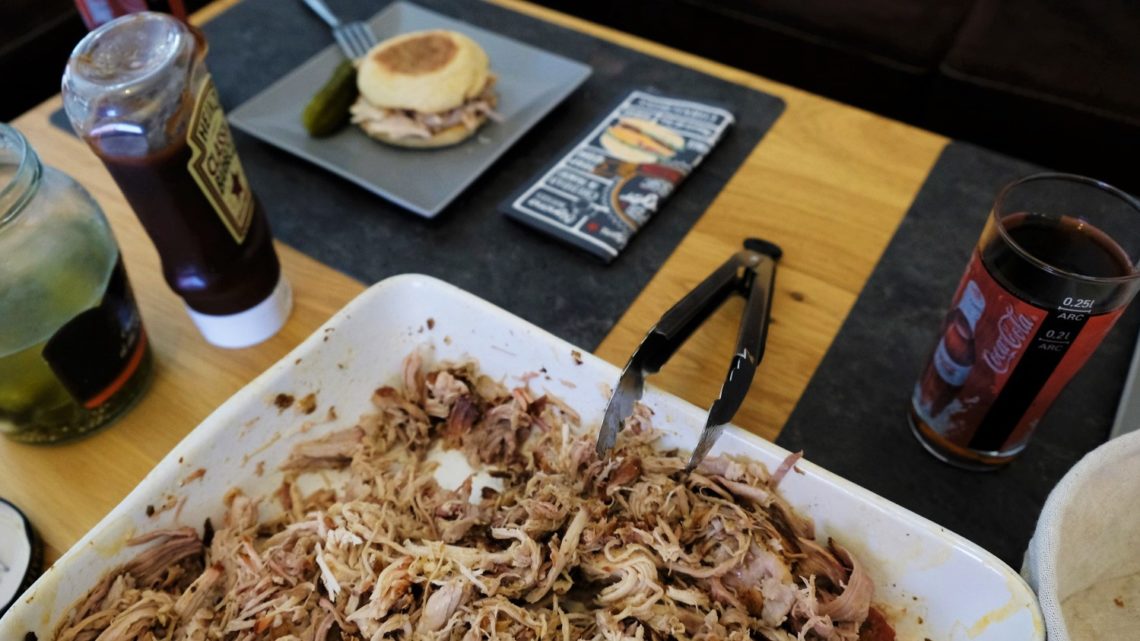 Summer equals barbecue time and smoked meats. We love to use our smoker box for cooking our meats and fishes outside. For this recipe, you will need time, yes, it takes around 5 to 6h to prepare and cook! But it is soo good… You will also need a barbecue and a smoker box with wood chips.
Ingredients:
2 kg Pork belly
4 tablespoons Mustard
1 cup red wine + 1 tablespoon
1/2 cup bbq sauce + more for the english muffins in the end
1 tablespoon Olive oil
2 tablespoons origan
2 tablespoons paprika
1 tablespoon black pepper
50 cl water
16 english muffins

Recipe:
Remove the ribs from the meat. Rub the meat with the olive oil, then, do the same with the mustard. Add the origan, paprika and black pepper and rub the meat with it. Let it rest for 5 minutes and prepare the sauce combining the red wine cup and the bbq sauce in a bowl. Brush it on the meat several times, trying to use as sauce as you can (keep the sauce that you will not pour, you will need it in the end). In a aluminium basket, pour the water and red wine tablespoon and place it into the barbecue, far from the burner that will be used. Prepare the smoker box by adding the wet wood chips inside (we used maple wood) and place it in the barbecue, directly on the burner cover. Switch on the barbecue (just the burner under the smoker box) and make it heat at 300°F (150°C). As soon as the heat is reached and smoke escape from the barbecue, place your meat inside at the opposite side of the heat, as far as possible so it won't cook directly but only with the smoke. Place inside the meat a food thermometer and adjust to 160°F (72°C). Close the barbecue and let it cook until the temperature is reached (2h). Remove the meat from the barbecue and place it into a cooking paper, adding the sauce kept earlier (red wine and bbq) inside. Close the paper and place it back in the barbecue with the thermometer inside the meat. Now, adjust the temperature to 200°F (95°C) and let it cook again until the temperature is reached (2h30). Don't forget to check out the smoker box, you will probably need to add more wood chips. When ready, remove the meat from the barbecue and place it in the oven or in a cool box for 15-30 minutes (no need to switch on the oven, it is just to let it cool a little bit). Then, you can remove the meat from the baking paper and place it in a dish to shred it with 2 forks. Cut in two parts your english muffins and toast them. Pour some bbq sauce on a side, add some pulled pork, pour again some bbq sauce and close the sandwich. Ready to eat!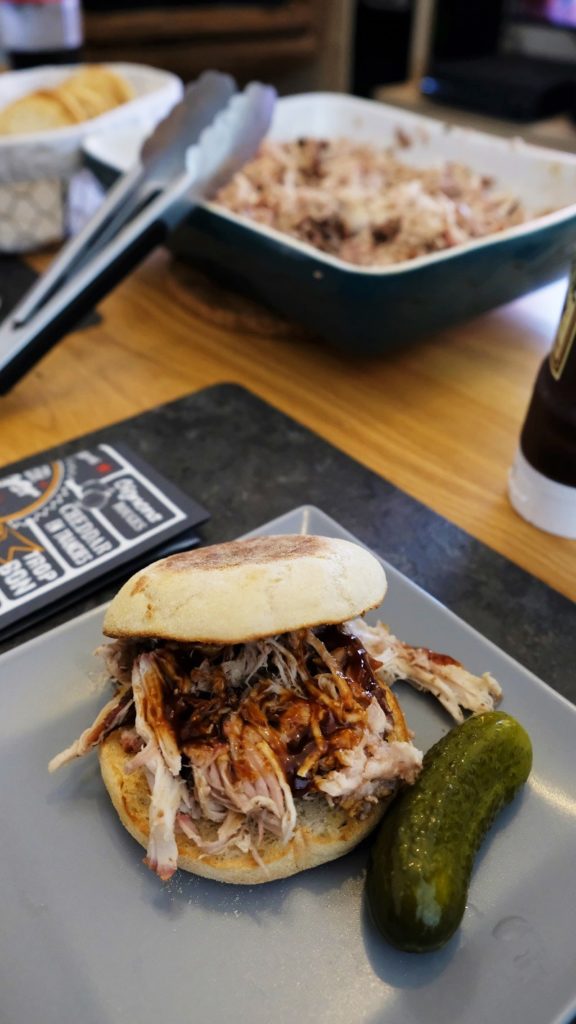 ---