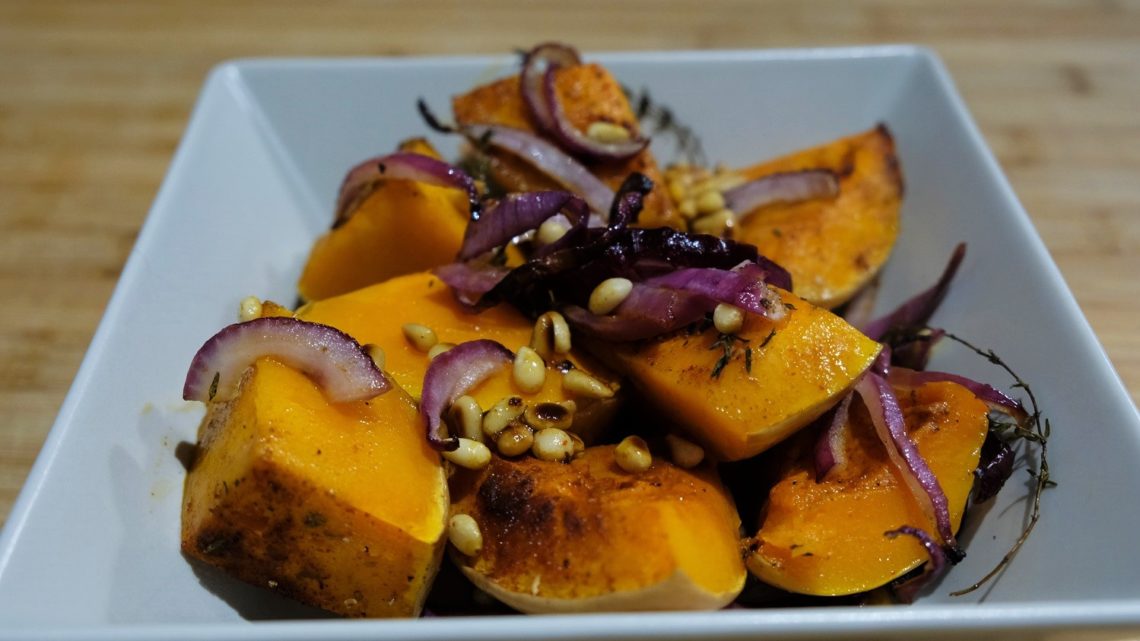 In autumn, I really enjoy to cook squash of all kind. One of my favorite is the butternut squash that you can roast with red onions and herbs. Really simple to prepare, I recommend you to chose an organic squash so you can keep the skin. This recipe is for 2-3 people if you don't eat anything else or 4-5 if you serve it with something else.

Ingredients:
1 butternut squash
1 red onion
1 thyme branch
60 g pine seeds
10 tablespoons olive oil
1 teaspoon paprika powder
1 teaspoon cumin powder
1/2 teaspoon black pepper
1/2 teaspoon salt or 1 tablespoon Maggi Liquid seasoning
Recipe:
Preheat the oven at 200°C. Wash your butternut squash and cut it in big pieces (don't forget to remove the seeds but keep the skin if it is organic, peel it if not). Place the pieces in a baking dish, the skin must be under facing the dish. Cover with 5 tablespoons olive oil all over, add the thyme, paprika, cumin and black pepper. Place in the oven for 20 minutes. During this time, Peel and chop the onion. Place it in a bowl with the 5 other tablespoons olive oil and salt or Maggi liquid seasonning. Mix and reserve. Place the pine seeds in a pan and grill them.  After the 20 minutes baking, cover the squash with the red onions and bake again 20 minutes. Then, remove from the oven and using a fork, prick the squash to be sure if it is cooked (it must be tender but not too much). If it is ready, add the pine seeds on top and serve.
---