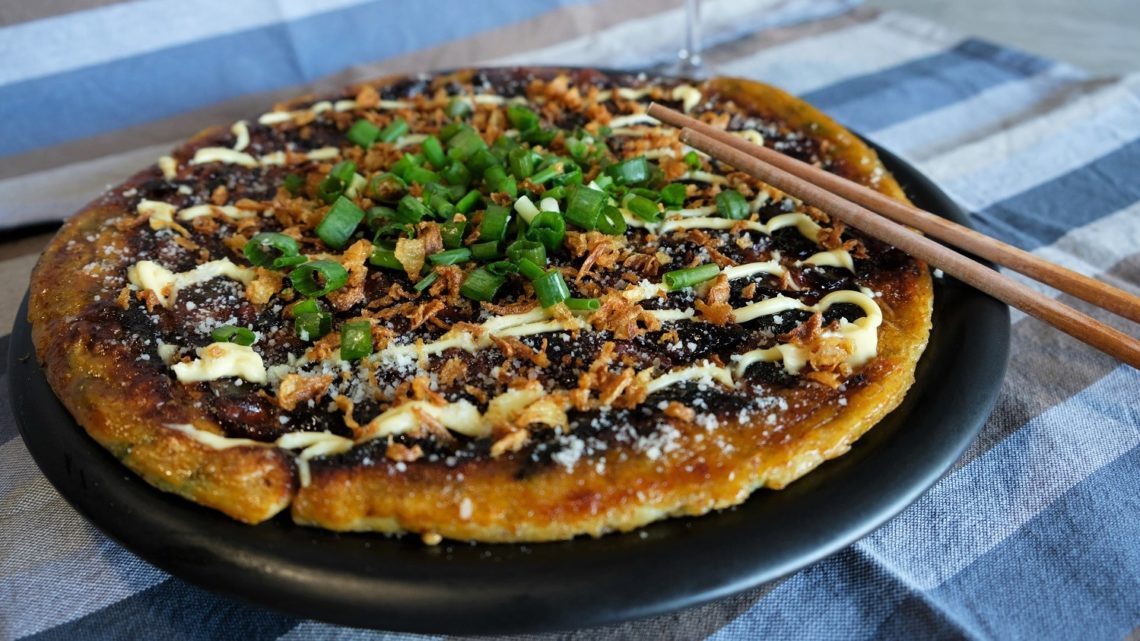 Do you know Okonomiyaki? This a super Japanese recipe from Osaka and Hiroshima in which you can add a lot of ingredients to vary the taste. This is my husband who discovered it a few months ago (yes he loves to cook too, lucky me). In this one, we chose to use bacon and parmesan but you can make it veggie and dairy free if you do not use those ingredients. The dough remains the same but the vegetables you add can vary as you like and this is what I like in this recipe. Thanks to this, you can do it all year long using fresh and seasonal products. Since we were on Spring when we made it, this one uses vegetables from this season. The original sauce used in this recipe is the Bulldog sauce, but, since we haven't been able to find it in our city's shops, we have created one with other ingredients. Let us know if you like it…
Ingredients for 2-3 people:
150 g flour
20 cl water
1 teaspoon baking powder
2 eggs
2 leafs chinese cabbage
2 spring onions
7 bacon slices
6-8 tablespoons Maggi liquid seasoning
3 tablespoons barbecue sauce
3-4 tablespoons fried onions
3-4 tablespoon parmezan cheese
French Mayonnaise
Sesame oil
Sichuan Pepper
Recipe:
Cut the chinese cabbage and spring onions in pieces. Keep 2 tablespoons of green spring onions beside for the topping in the end of the recipe. In a saucepan, heat 6.5 fl oz of water a little bit and pour it in a bowl. Add 3-4 tablespoons of Maggi in the water. In a mixing bowl, mix the flour with the baking powder and add the water and Maggi heat. Knead the dough and add the chinese cabbage and spring onions. mix and let it rest for 20 minutes at room temperature. Add the eggs to the dough and mix. Oil a pan with a kitchen towel previously soaked in the sesame oil. Place your pan on the burner at medium temperature. Place the bacon slices on the pan. Immediately, pour the dough in the pan on the bacon slices and let it cook for 10-15 minutes. Drop off in a plate to easily turn it over in the pan. Let it cook again 10-15 minutes. Serve in a plate and prepare the sauce: in a bowl, add the barbecue sauce, 3-4 tablespoons of Maggi, some sichuan pepper and 2 fl oz of water and mix. Add the sauce on the Okonomiyaki with a pencil, then, add the french mayonnaise by a few making zigzags. Finally, place the spring green onions kept on topping with parmezan and fried onions. Ready to eat!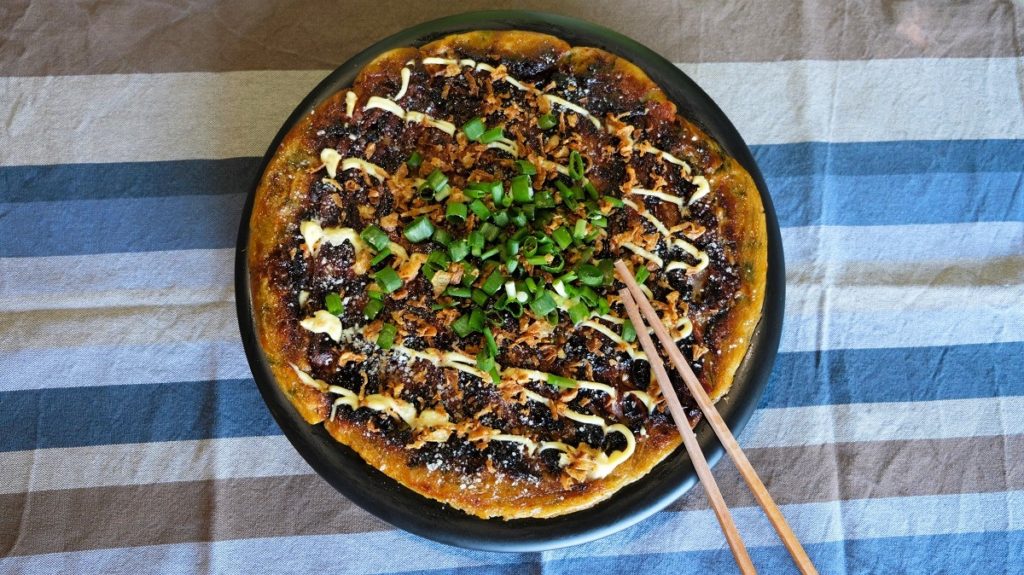 ---