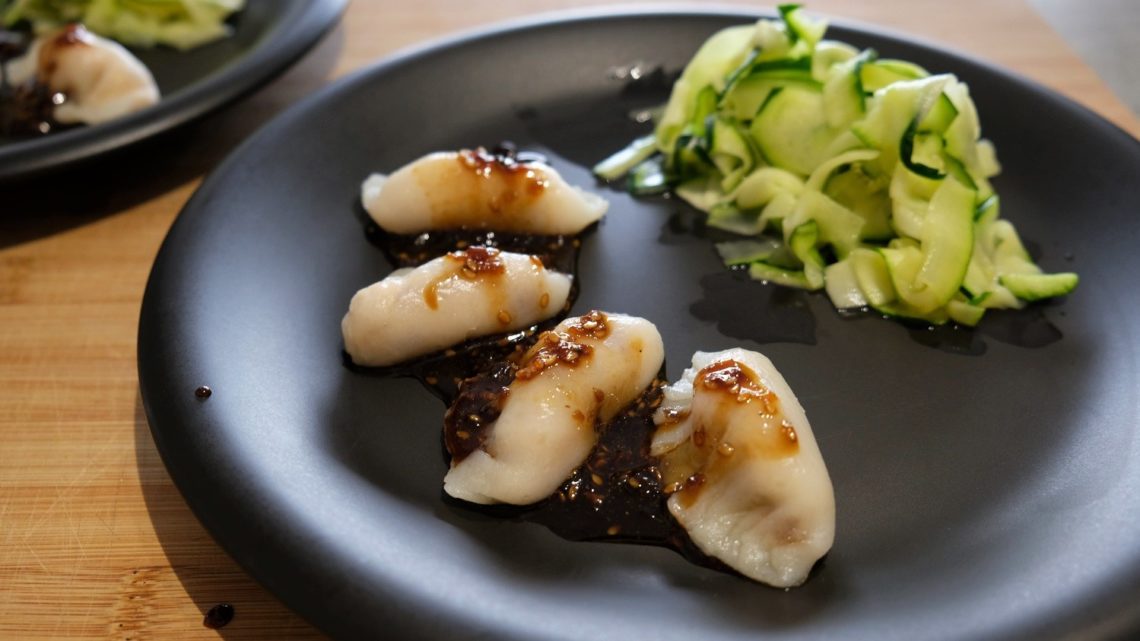 Salmon Dim Sum & Zucchinis
I never made Dim Sum before, this was the very first time I tried to make some. Already tasted and ate some in restaurants or even at home with delivery, but, creating those chinese raviolis was really exciting and not complicated at all! Here is my recipe with salmon and zucchinis… Since I didn't have fresh salmon but only frozen one I cooked it a little bit before adding it to the ravioli, but if you can, use some fresh one and add it fresh in the ravioli. Here, the recipe is for 2 people, means 8 raviolis each.
Ingredients for 2 people:
70 g rice flour
30 g corn starch
100 g boiled water
120 g fresh salmon (skin removed)
1 zucchini
1 shallot
2 tablespoons sesame seeds
1 teaspoon ginger powder
1/2 taspoon coriander powder
2 tablespoons sugar
5 cl Maggi liquid seasoning
1 teaspoon balsamic vinegar
Sesame oil
chives
black pepper
Recipe:
Cut your zucchinis in 4 pieces keeping the center with seeds on side. Then, usinq a slicer or peeler, peel the zucchini to create tagliatelles and place them in a bowl.
Cut the zucchinis center with seeds in very small cubes (in French, we call it brunoise) and place them in another bowl. Remove the skin from the salmon and cut it in small dices too (the smallest possible), then, add it to the bowl with the zucchinis' cubes. Add 3-4 chives, 1 tablespoon sesame seeds, ginger, coriander and some black pepper. If you are using fresh salmon, just keep this bowl for the next step and add 1 teaspoon sesame oil. If you are using frozen salmon, then, place pan on the burner, add 1 teaspoon sesame oil and sear 1 minute at medium-high temperature. Then, pour this garnish back into its bowl and let cool down.
Prepare the Dim Sum dough in a salad bowl by combining the rice flour with corn starch and adding the boiled water. Vigorously mix it with chopsticks, then, use your hands to make a ball (gently oil your hands before because the dough is sticky). Let it rest 15 minutes in the bowl covered by cellophane.
During this time, place a sauce pan with water and a salt pinch on the burner and make it boil. When it's boiling, change the temperature to medium and add your zucchinis tagliatelles. Let them cook for 3 minutes, then, removed from the water with a skimmer and place them back into their bowl.
Prepare the sauce. Shop the shallot and place it in a bowl, add the Maggi liquid seasoning, the balsamic vinegar, 1 tablespoon sesame seeds and black pepper. Place a sauce pan on the burner with the sugar inside at medium temperature. Don't stop mixing with a spoon. When it caramelised, add little by little the sauce from your bowl still mixing to combine everything together. When the sauce is combined, stop the heat and reserve.
Pour 1/4 water in a sauce pan and place a covered steam basket on top. Place inside the steam basket a greaseproof paper on which you have made holes. On the countertop, pour 1 teaspoon sesame oil and spread it with your hands. Take the Dim Sum dough and roll it in a sausage shape 3-4 cm high. Cut it in 16 parts and make small balls with them. Now, you have to create the ravioli. Oil a rolling pin, place one bowl on the oiled part of the counter top and press it. Then, roll it to create a disc 1 mm high. Remove from the countertop using a knife's blade. Then, place the disc in your hand and fill with 1/2 teaspoon garnish before closing it. Place it on a plate on which you have spread some rice flour. I have watched this Youtube video to understand how to close the raviolis.
Place the sauce pan with water and steamer on the burner and make it boil. Then, reduce at medium heat and place your Dim Sum in the basket (I was able to place 8 in mine). Then, let it cook for 15 minutes before serving in plates with the zucchinis tagliatelles. Pour some sauce on the raviolis and it is ready!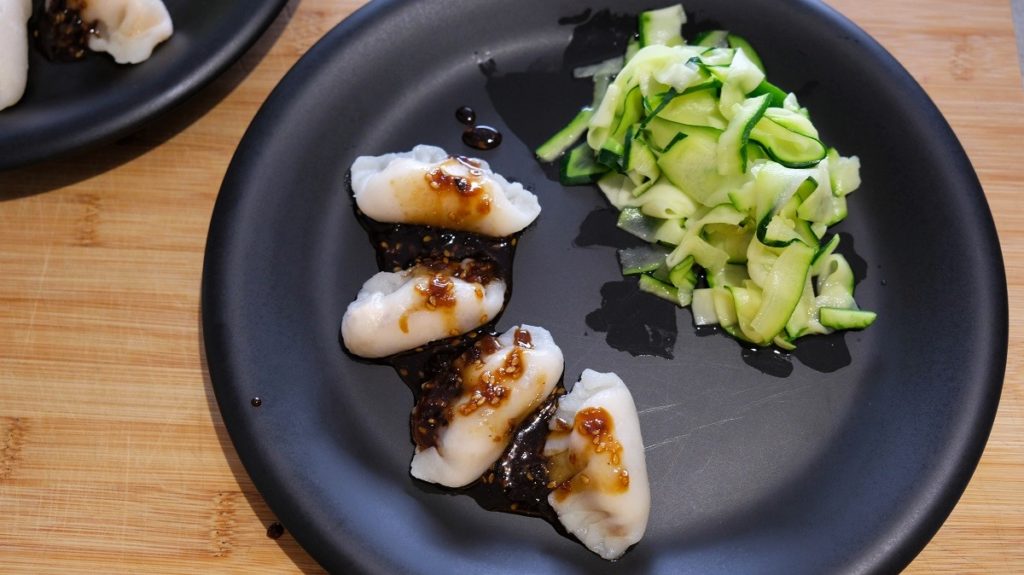 ---