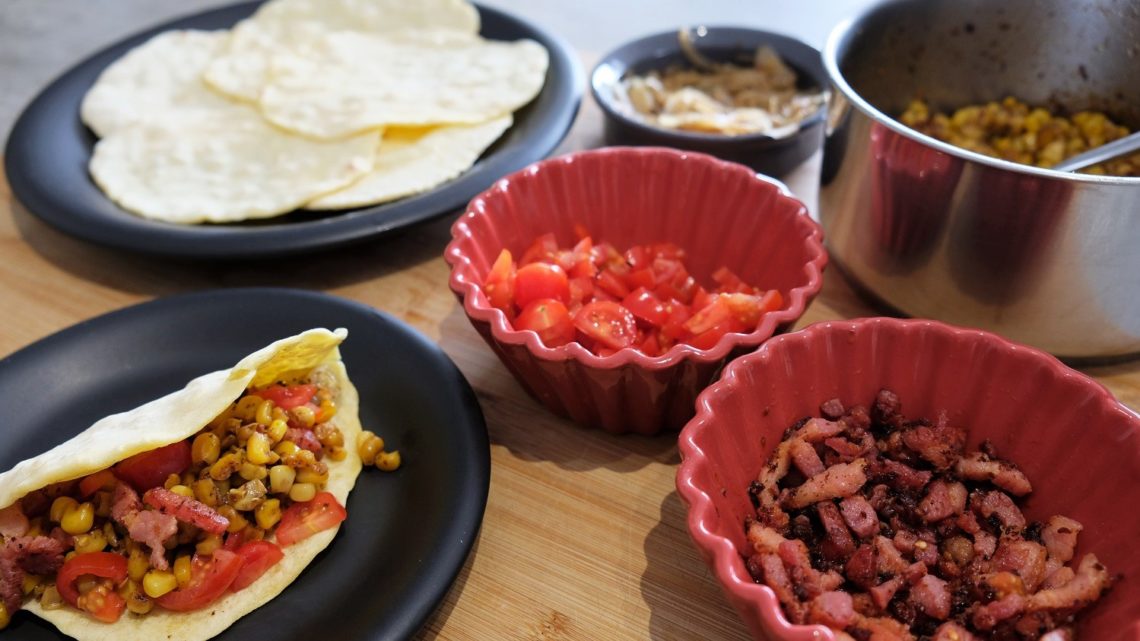 Want to cook home-made Mexican tortillas including the dough? Here is my recipe for a tasty tortilla a bit different from the original one. If we were not in quarantine when I made them, I would have probably changed a few things for the garnish but here, I did it with what I had at home. I have read 15-20 different recipes in french, english and spanish to compare the different ways to create and cook the dough, quantities, proportions of liquid and solid, cooking time, techniques… I finally made a mix getting inspired by my readings and what I thought would be good for me. Mexicans use masa harina which is a special corn flour made from nixtamalization (corns are soaked and cooked in an alkaline solution, washed, and then hulled). Of course, I didn't have this at home so I tried to create something that would be as good and flexible fro making tortillas.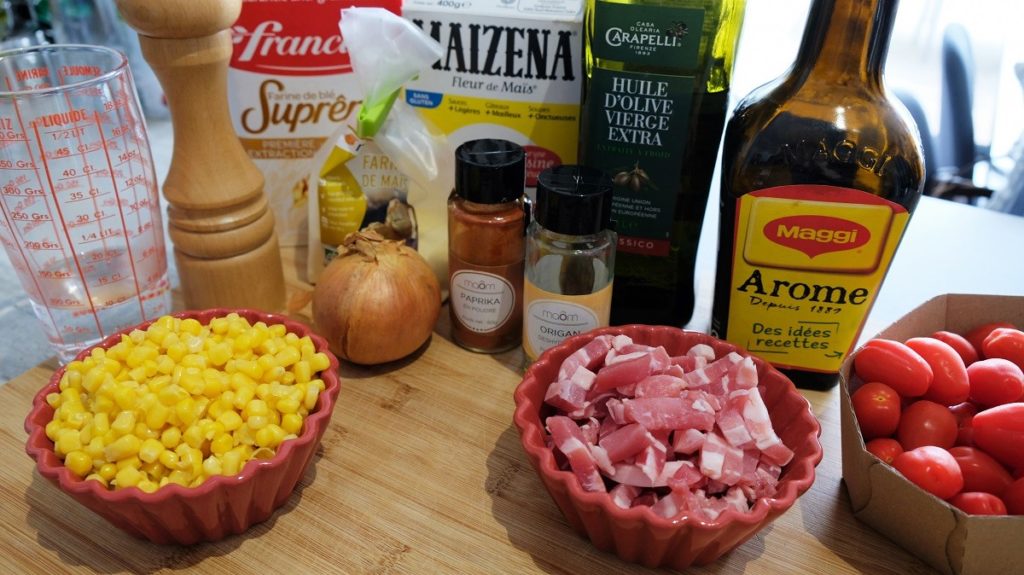 Ingredients:
70 g corn flour
40 g corn starch
50 g wheat flour T45
80 g warm water
1/2 teaspoon salt
1/2 teaspoon olive oil (another extra one)
200 g lardons
300 g corn seeds
1 onion
10 cocktail tomatoes or 2 big tomatoes
1 teaspoon Maggi liquid seasoning
1 teaspoon paprika powder
1 teaspoon origan
black pepper

Recipe:
Prepare the dough by combining flours, corn starch and salt together, then, add the warm water and mix with chopsticks. Then, continue with your hands floured and add 1/2 teaspoon olive oil. Combine it well and then, create a big ball that you will let rest for 15 minutes. During this time, cut the tomatoes and place them in a bowl. Chop the onion and cook it in a pan with 1/2 teaspoon olive oil for 3 minutes at medium temperature. Place it in another bowl. Cook your lardons in the pan with paprika at medium temperature until they are colored and reserve on side. Cook your corn seeds in a sauce pan with Maggi liquid seasoning, origan and some black pepper at medium temperature for 5 minutes and reserve.
If you have a plancha, turn it on at medium-high temperature, you will cook your tortillas on it. If you don't, use a pan without oil or butter, nothing inside. Create your tortillas by separating your dough in 6 balls equal size. The dough is a little sticky so don't hesitate to flour your hands before. Place a cellophane on a chopping board and flour it. Place your ball on it and using your fingers, flatten it until it creates a 12-15 cm disc. Cook the tortilla on the plancha or pan for 1 minutes each side (turn over when brown spots appear). Finally, fill the tortilla with onions, lardons, corn and tomatoes on top. You can also add some cheese or any kind of sauce you like and some fresh herbs too.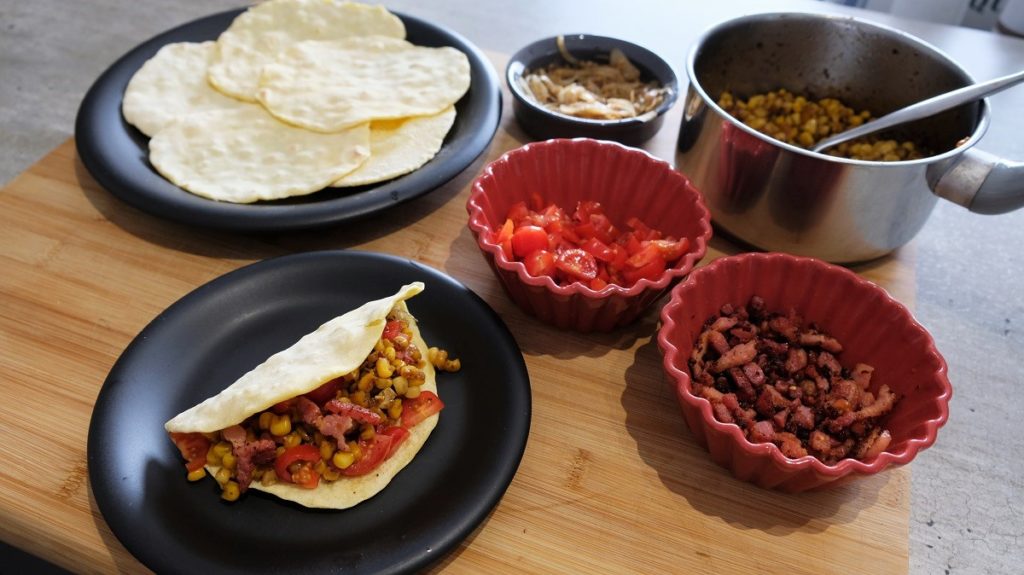 ---