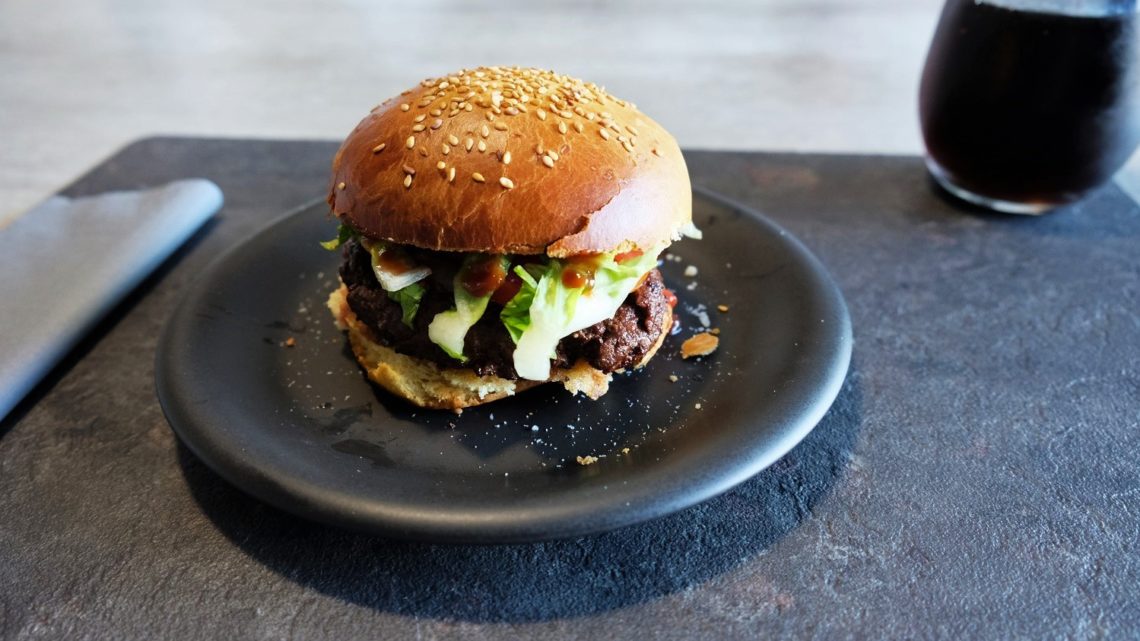 Everybody knows how to make a burger, but do you know how to make the bread? Here is the perfect recipe to prepare home-made Burgers including bread! On my pictures, I have prepared the dough for 4 burgers but since we were 2 people eating the other ingredients shown are for 2 people. Because of this, you may see a difference between the picture and the ingredients I wrote for the recipe for 4 burgers.
Ingredients for 4 burgers:
250 g flour (I used 60 g T45 & 190 g T55)
50 g sugar
100 g lukewarm milk
5.5 g express yeast
55 g butter
1 teaspoon salt
1 egg + 1 egg yolk
2 tablespoon water
2 tablespoons sesame seeds
4 Salad leaves
2 tomatoes
4 ground beef (125 g each)
2 onion slices
4 bacon strips
2 tablespoons grounded parmesan cheese
sauces as you want (ketchup, barbecue, mayonnaise…)
Recipe:
Warm your milk a little bit (in a saucepan on the burner or at the microwave). Add the yeast inside, mix and let rest for 5 minutes. In a mixing bowl, combine the flour, sugar and 1 tablespoon sesame seeds. Melt 50 g butter and add it to the flour with 1 egg and the milk+yeast when ready. Using a pastry robot or kneading machine, mix everything at the lowest speed during 1 minute. Add 1/2 teaspoon salt and mix again for 5 minutes. Bring the borders in the center, cover with a cellophane and let rest 1h30. Then, place a cellophane on a plate, flour your hands and take the dough that you will place on the plate and cover with another cellophane. Place it in the fridge for 30 minutes. When the times passed, flour your kitchen countertop and form like a long bread 5-8 cm high. Cut it in 4 equal pieces. Shape each part in balls by joining the dough below. Place them on a drip pan covered with baking paper. In a bowl, mix the egg yolk with water and using a brush, brush your breads 2 times each and everywhere except under. Cover with the sesame seeds remaining and let rest for 40 minutes. Preheat the oven at 355 °F (180°C) and when the 40 minutes are passed, place the breads in the oven for 18 minutes. Remove from the oven and let cool down before cutting.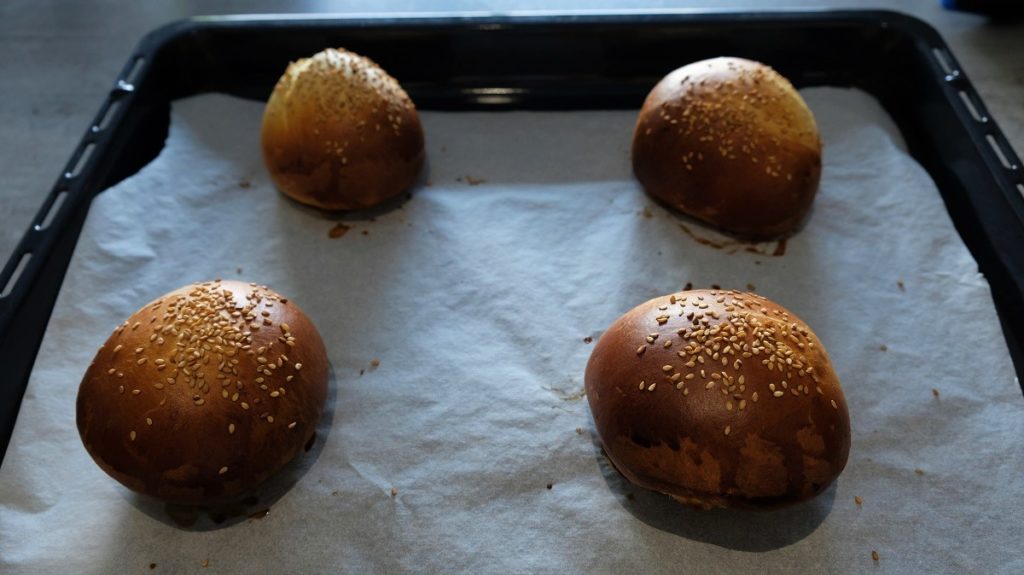 When your breads are cooking, cut the salad, cut your tomatoes in slices and take 2 slices of the onion without skin. In a pan, cook your bacon strips at medium-high temperature until it brown (I like mine crispy). Remove from the oven and let dry on a plate covered with a kitchen towell. Cook the onion 2 minutes in the same pan using the bacon strips fat. In another pan, pour the 5 g butter and place on the burner at medium-high temperature. When it's melted, add your ground beef and 1/2 teaspoon salt and cook 1 minute each side (I like when it's dark outside and pink inside). Cut your burger breads in 2 parts from the middle, and place on each: 1 ground beef, then, 1/2 tablespoon grounded parmesan cheese, some onion, tomatoes slices, salad, the sauce you have chosen, the top of the bread! Ready!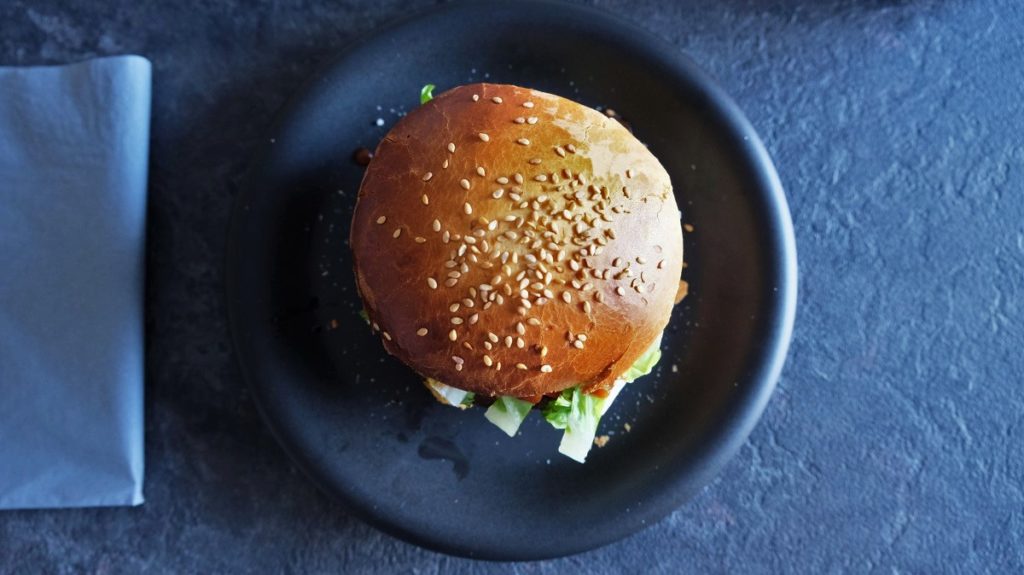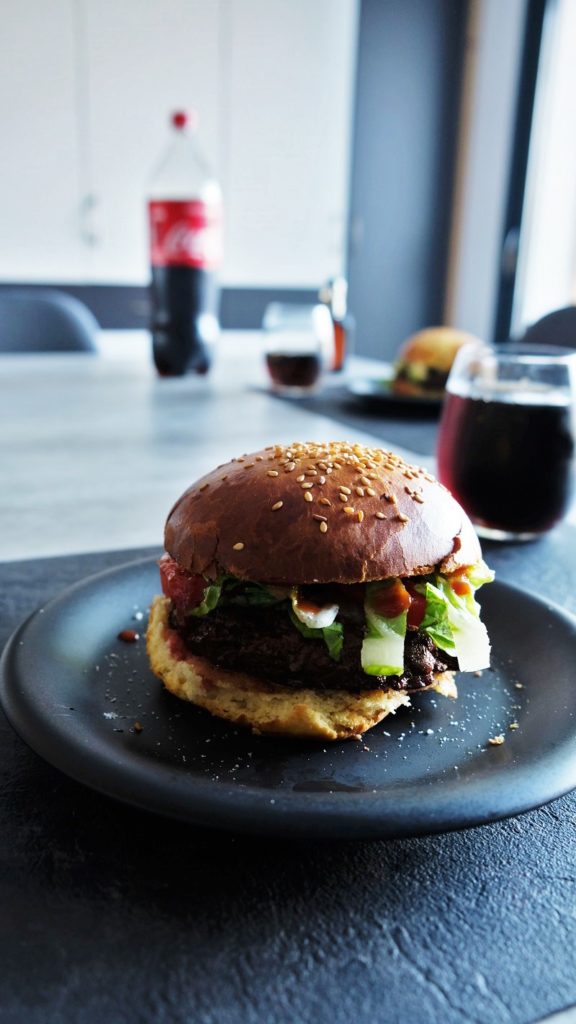 ---