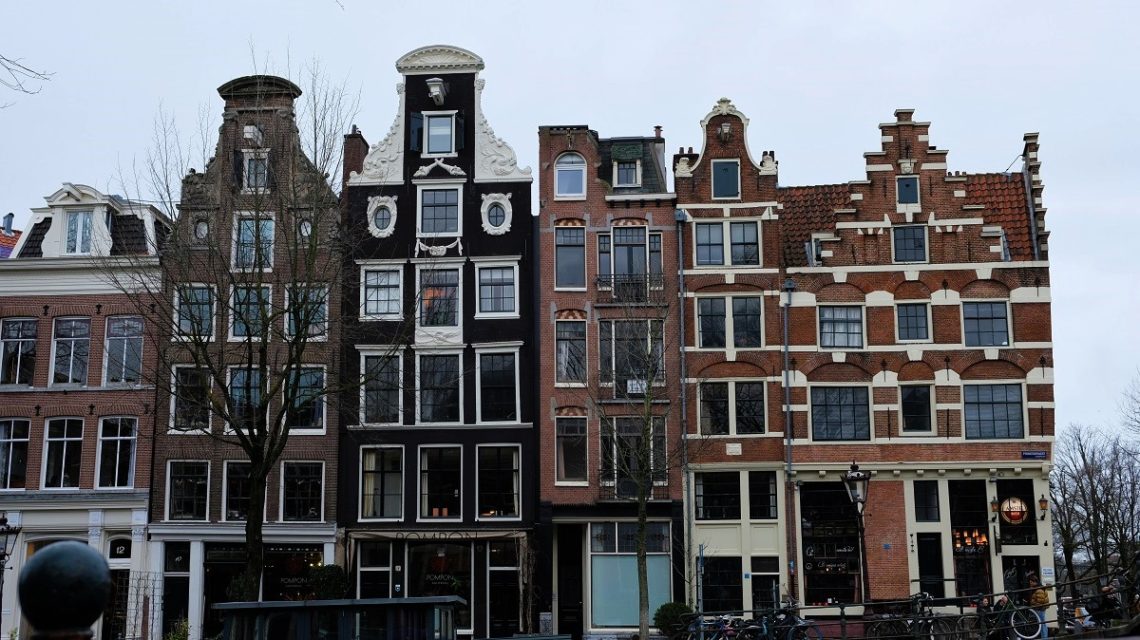 Where to eat in Amsterdam?
Looking for a place to eat in Amsterdam? This is my 10 favorite places to eat and drink all day long in Netherlands' capital city! I have been lucky to travel there this January and I can tell you that this is probably one of the best cities for foodies! Many cool places to eat or drink all day long, nice and friendly people, good food and a lot of choice for every taste…
Park Café:
Park Café, is Hotel Arena's bar and restaurant (where I was staying) and is open to everyone, even if you are not staying at the hotel. The menu is simple but delicious and I enjoyed the decoration made in a cosy industrial theme with a fire corner and a lot of fake plants facing the Oosterpark. I really enjoyed the Burger and fries with a truffle mayonnaise, as well as the risotto. This is also the perfect place for breakfast, brunch and a coffee or tea near the fire…
The Breakfast Club:
Want an all-day breakfast? I am in love with breakfasts and brunchs and this is the perfect place to do it all day long. They have a lot of choice for every taste, good products and not too expensive! Moreover, they have 5 addresses in Amsterdam! I have been to Wibautstraat's Breakfast Club for a perfect English Breakfast!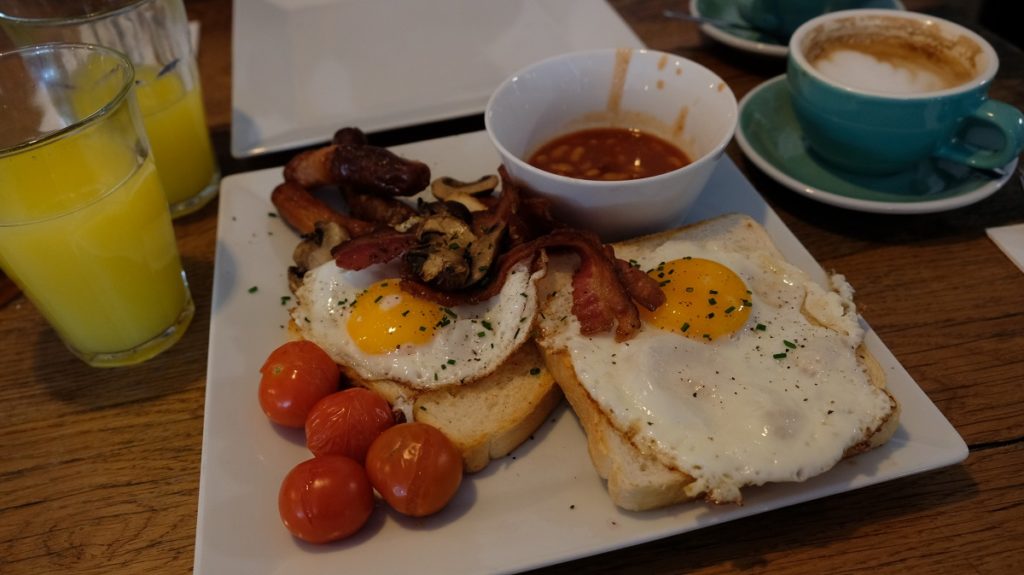 The Butcher:
Want to eat a burger? Go to The Butcher! They also have many restaurants in Amsterdam, but also in Berlin, Ibiza and Dubaï! I have been to Albert Cyup in De Pijp district where burgers are delicious and fries from heaven. Beware, there are only a few seats inside but don't worry, you can also take away. Don't miss their Butcher burger with sweet potatoes fries; I also enjoyed the truffle burger with cheese sticks and fries…
Pluk:
Pluk is a place where visual is as important as social medias: a clean and boho design, healthy products, nice colors, a cute shop and a restaurant area upstairs on the mezzanine. The menu is made with everything we love from breakfast to brunch and tea party all day long. It is well organized, the quality is good, quantity too and taste is here! I enjoyed the fresh orange juice and poached eggs Benedict and Norwegian…
Lavinia Good Food:
As healthy as the previous place, welcome to Lavinia Good Food. Two vegeterian places and more in the city that are using fresh quality products with healthy and original food. Decoration is from second hand and in a boho style, menus are always changing with salads, soups, cakes of the day and you can come all day long. I have been to the one located on Kerkstraat and enjoyed the scrambled eggs and pizzetta with portobello bacon. My husband's menu was 100% veggie with the pizzetta and a gluten-free vegan rose cupcake! Nice place.
Frens Haringhandel:
If you are looking for Netherlands' specialities, smoked herring is on top of the list and the best place (according to a lot of people) is at Frens Haringhandel. This is a stand on a bridge in Centrum district that sells smoked herrings and other fishes in the classic way (with fresh onions) or as a sandwich. So good, there is no doubt, this must be the best place to eat it or at least, one of them!
Eetsalon Van Dobben:
What other specialty should you taste? Croquets of course, but the ones from Van Dobben! This is in their little restaurant that also do take-away that I tried their famous original croquet made with beef. And because I am a foodie, I also tried the spicy veal one as well as the smoked cheese one. My favorite? The veal!!!!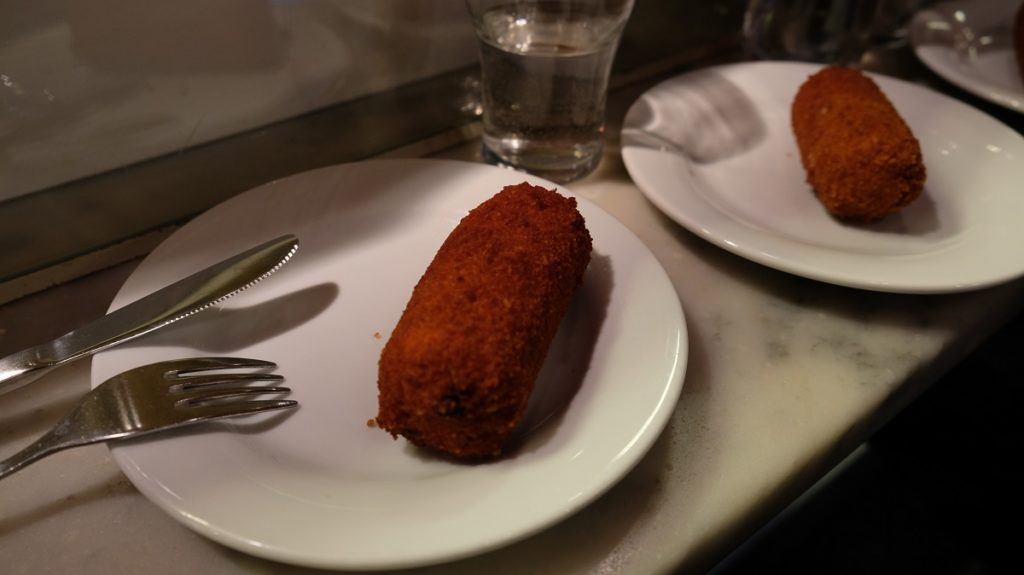 Original Stroopwaffles:
I am sorry but I haven't been able to take a picture for this one. Why? Because it was sooooo goooood that I ate all in less than a minute! If you love waffles, go to the Original Stroopwaffles stand at Albert Cyup Markt. They make fresh hot waffles with liquid caramel inside (understand now why I ate it fast?). This a specialty from the Neterhlands but this one is special because the recipe is kept from dad to son…
Brouwerij't IJ:
Brouwerij't IJ brewery is located in the tallest windmill of the Netherlands. This is cool place for beer lovers so don't hesitate to go there for a drink. I felt in love with their blond beer called Zatte and their grilled sausage (cooked with paprika and curry)! They also serve local cheese and dry sausages.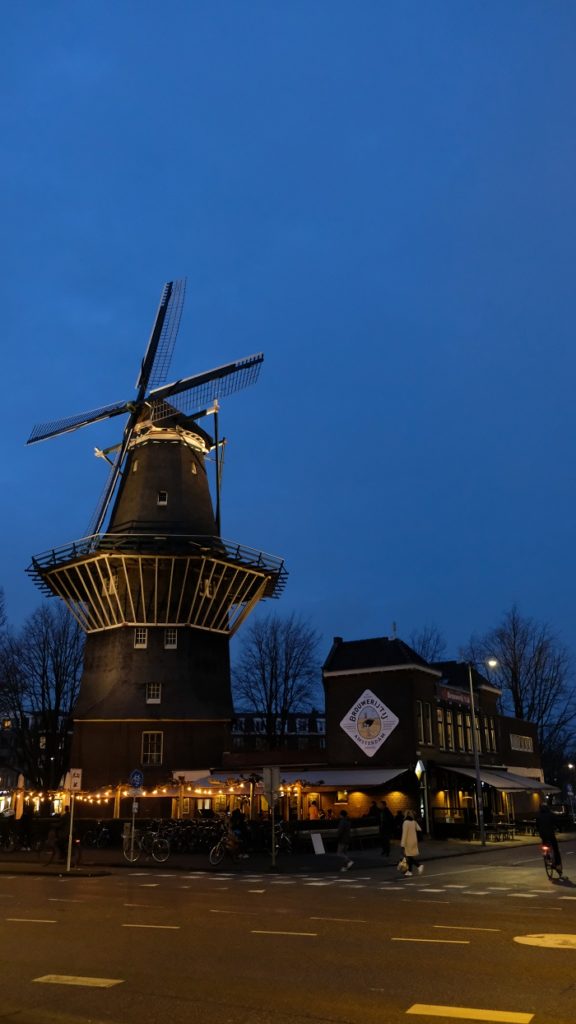 Bar Botanique:
Between Oosterpark, Plantage and Zeeburg districts, Bar Botanique is a beautiful place. I did not eat there but had a drink in the late afternoon. I have checked the menu which seemed to be super for brunchs! The environment is quite unique with a lot of plants and invite to travel. I have to come back for their food!
Many more:
Since I spent only 4 days in Amsterdam, I haven't been able to taste all the places I found before going there. The city is huge and there are a lot of restauratns and bars! So, here is a short (big) list with the ones I would like to visit one day. Do not hesitate to tell me if you know them and like it!
---