If you love salad, bacon and poached eggs, this recipe is for you. It is really tasty and fresh. Moreover,in this post, I give you my secret for perfect poached eggs! I tried many times before finding the perfect way to make it. Some people add white vinegar in the water but it gave strong taste to the egg, what I do not really enjoy. I finally found how to make it only with water and without using any complicated technique…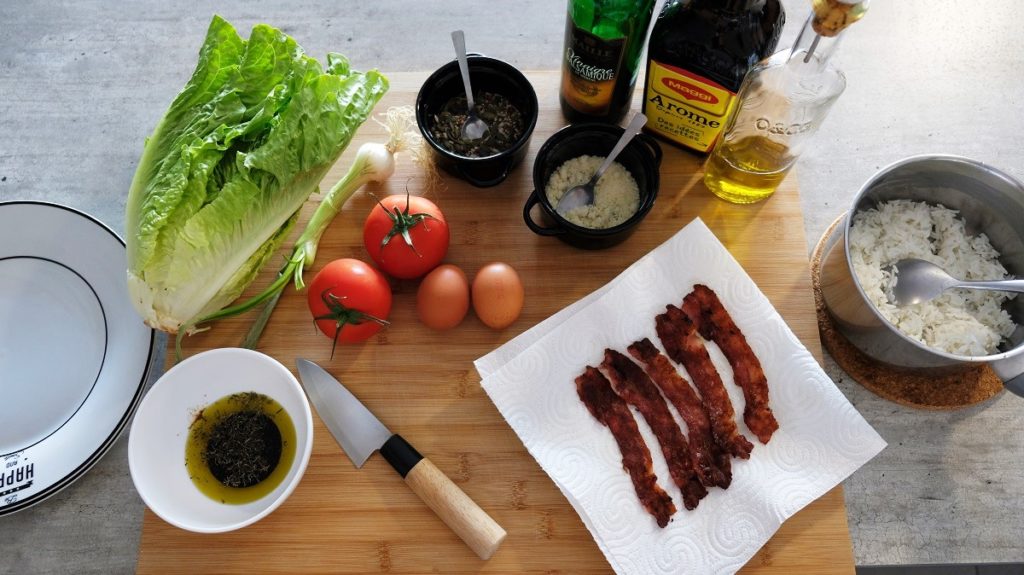 Ingredients for 2 salads:
2 eggs
90 g basmati rice
8 salad leafs
5 bacon strips
2 tomatoes
1 spring onion or 1/2 shallot
6 tablespoons olive oil
2 tablespoons parmezan cheese
2 tablespoons seeds (flax, sunflower, marrow, sesame and chia)
2 tablespoons balsamic vinegar
1 tablespoon thyme
1 tablespoon Maggi liquid seasoning
1 tablespoon chives
1 teaspoon pepper

Recipe:
Full a saucepan with water and make it boil; when boiling, reduce the heat and add the rice for 10 minutes. When cooked, use a colander to drain it and wash with cold water; reserve. In a pan, grill your bacon until crusty, then, place on kitchen rolls to drain the fat, then, crumble it. Cut the onion and place it in a bowl, then add and mix together the olive oil, vinegar, thyme, Maggi and pepper. Cut your salad leafs in bits and tomatoes in dices. Place them in your plate and add the rice and bacon. In a saucepan, boil water and lower temperature until water slowly tremble. Using a tablespoon, create a whirlwind in the water, then, break an egg in the middle of it (beware, the whirlwind must not be strong, it has to be slow so the egg do not ramain at the same place in saucepan but do not separate the yolk from the white). Cook like this for 1 minute and carefully remove the egg from the water using a very thin slotted spoon. Immediately place on the rice in your plate, always carefully if you do not want to break the yolk. Spread the seeds, chopped chives, parmezan cheese and sauce on the entire meal and serve.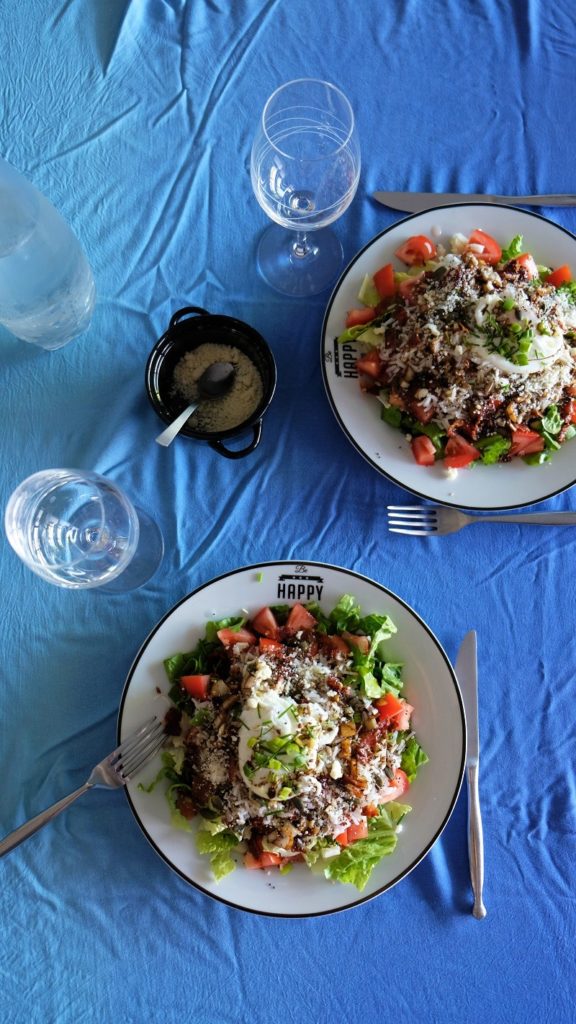 ---