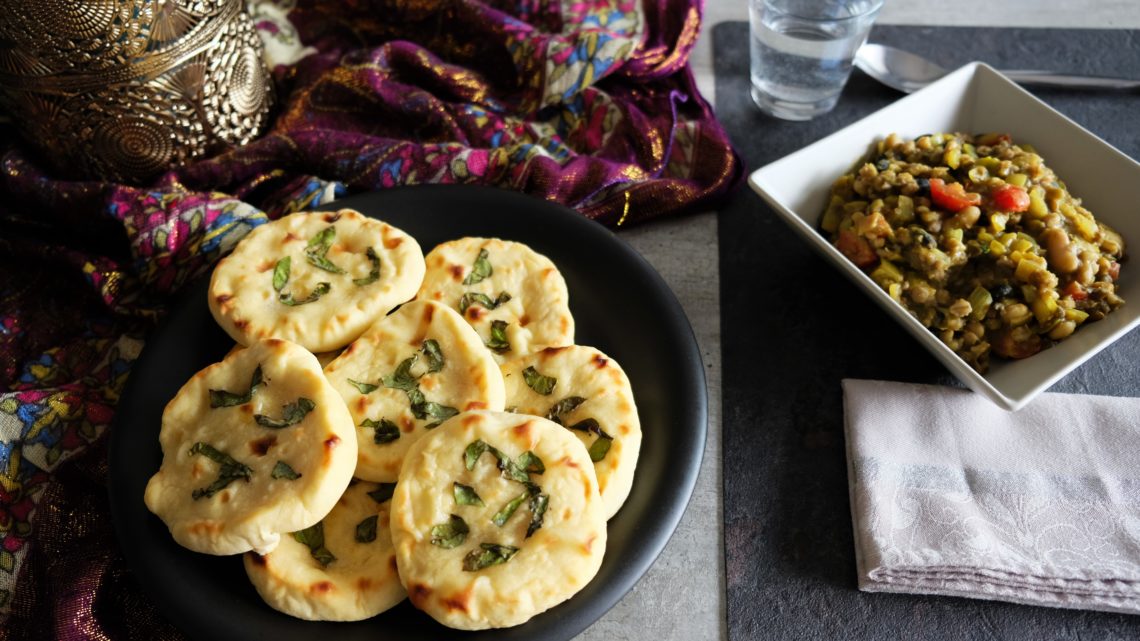 For an Indian touch in your food, you can cook Cumin Lentils with Naans. This is a delicious vegan meal that can be spicy or not. This one is very sweet but you can add some chili to make it hot!
Ingredients for Naans:
330 g flour
2 teaspoons sugar
1 teaspoon salt
1 teaspoon baking powder
1 egg
25 cl milk
2 tablespoons sunflower oil
6 basil leaves (or coriander leaves)
2 tablespoons liquid butter
Ingredients for Cumin Lentils:
200 g red lentils (I made a mix with red lentils, green lentils, split peas, mungo beans, black beans, white beans, barley and spelt)
85 cl oz water
1 teaspoon salt
2 teaspoons sunflower oil
1 onion
1 teaspoon curcuma powder
1 teaspoon cumin powder
1 big tomatoe (or 6 cocktail tomatoes)
2 tablespoons chopped parsley (or coriander)

Recipe:
For the naans: Add the flour, sugar and baking powder in a mixing bowl. In another one, beat the egg with the milk. Add it to the bowl with the flour and slowly mix to combine until it becomes a dough. Place the dough on the countertop, create a hole inside and pour the oil. Knead for 3 to 4 minutes until the flour absorb all the oil and the dough is homogeneous and flexible. Wrap the dough with cellophane and let it stand for 1h. Split it in 8 parts and model in balls. Let them stand again for 15 minutes. Preheat the grill at high temperature and line the shelf with aluminium foil. Oil it. Lower your douh balls and roll them out to model them in small circles of low size.Place them on the shelf. Chop the basil leaves and place them on the naans, pressing slowly on it. Place your naans in the oven for 1 or 2 minutes nearby the heat until some dark marks appear, then, turn them over for the same time. Remove from the oven and split the liquid butter on it.
For the lentils: Rinse the lentils and place them in a saucepan. Add the water and make it boil. Reduce at medium heat and skim the surface. Cook for 10 minutes uncovered, then, reduce again to low heat and let it cook for 45 minutes, mixing from time to time. Add the salt. During this time, pour the oil in a pan and place it on the burner. Cook the grounded onion for 2-3 minutes and add the cumin and curcuma powder. Cut the tomatoes and add it too. Cook it 30 seconds mixing all the time. When the lentils are ready, drain them if necessary, then, add the onion and tomatoes, the chopped basil leaves and mix.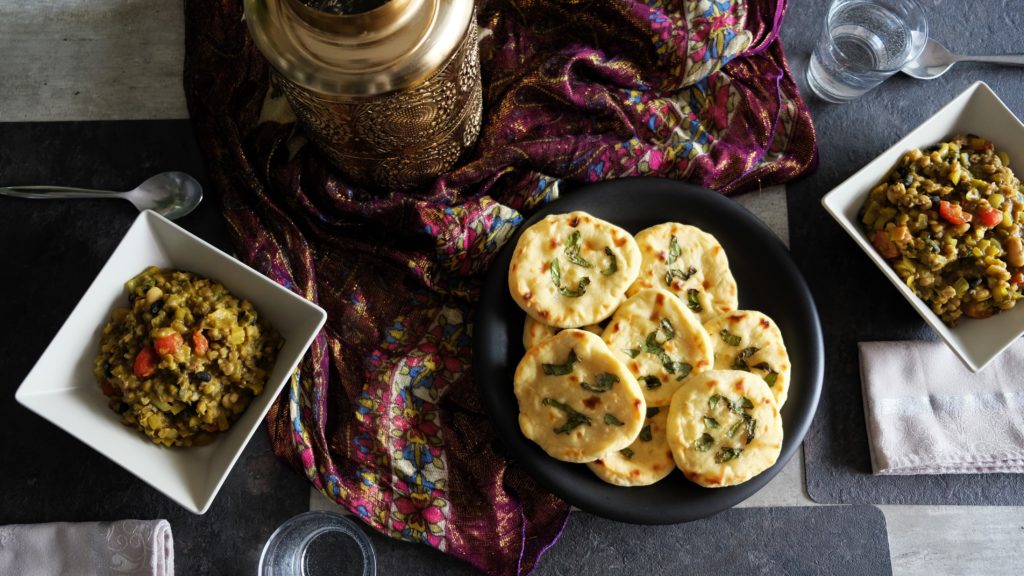 ---